Nickname: Jazz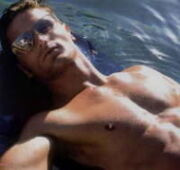 Occupation:  US Navy SEAL  STAR FORCE - Lieutenant Co - commander
Race: Caucasian
Age: Classified
Gender: Male
Place of Birth: Slidell, Louisiana
Current Residence: Whereever the Navy sends him
Height:
Weight:
Body Type: Athletic
Eyes: Blue
Hair:
Scars: Classified
Tattoes: Classified
Mother:
Father: Classified
Siblings:  1 brother, Zippy Zeringue; 8 sisters
Marital Status:  Married
Spouse: Vivienne Verreau
Children: None
Relatives: grandfather, nicknamed Ragin Cajun
Best Friend: Steve (Hawk)  McMillan
Likes:
Dislikes:
Talents: Sings and can play the Da Nhat, plays the piano
Strengths:
Weaknesses:
Languages: English, French
His storyline is in Protector. Protector is the first book in the Crossfire series.
A man well known for his respect for women
Operative: Jazz Zeringue, navy SEAL
Real name, Zola Zeringue, shhhhhhhh....
Assignment: stringing explosives on a bridge to activate between two moving trucks without injuring certain people, including goats

Talents: A combat strategist, coordinating a battle like a symphony.
Intel: Hawk McMillan's best friend, comes from a large family that includes eight sisters and one brother. His brother, Zippy Zeringue, is an Airborne Ranger. Musically inclined.
Most favorite thing in the world: making a certain "old lady" who tricked him into kissing her a very, very happy woman.
Community content is available under
CC-BY-SA
unless otherwise noted.