Number Nine: Ice Man
VITAL STATISTICS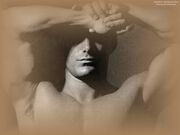 Full Name: Jed Conor McNeil
AKA: Number Nine, Stefan, Ghost Lightning, Ice Man, Hades
Age: 38
Birthplace: Dublin, Ireland

PHYSICAL ATTRIBUTES
Eye Color:Color of an Irish Florin
Hair Color: Classified Height: 178 cm
Weight: Classified

Blood Type: Classified

Body Type: Classified

Family: Family: Daughter Grace McNeil, Related to Agent Killian Langley

Notable Scars: Yes

Tattoos: Classified

Piercing: Classified
Languages: Classified
PERSONAL ATTRIBUTES
Martial Status: Widowed
General Mannerisms: Extremely Focused and is very Intense
Additional Factors:
Jed is the original Super Soldier Spy. His assignments often dictate that he function beyond normal physical human limits. While he has hinted at extreme training in his background. I have as of yet to verify the information.
With the overall agenda requiring various multi-aspects. How is Number Nine's focus on the end-game?
- Jed is very focused with destroying Maximillian Shoggi (Mad Max) because the latter had disabled the COS VIRUS unit for a whole year after successfully assassinating a few of them.  Disrupting the unit's optimal output for a year.
---
Personal Evaluation
- I find Jed McNeil a very focused individual and extremely protective of his female companions.  He chose to interrupt an operation to rescue Nikki Taylor (now Nikki Harden) and afterwards, tended to her personally for almost two years.
Aside:  Nikki Harden has remained in his life. 
- He has many female companions, some closer than others, that could be classified personal relationships.
- Another name I've heard him used was Sandra. There is no recorded operative I know of with that name. He also doesn't talk about someone in his past named Kitty. - Dr. Kirkland
Community content is available under
CC-BY-SA
unless otherwise noted.