Mylos Reed Vincenzio
Ooooo  Look my dudes and dudettes, a real surfer dude....  EightBall likes this SEAL.   Even found images of him riding the waves...   Hot Stuff.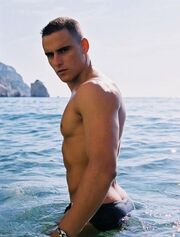 Nickname: Joker
Occupation: US Navy SEAL STAR FORCE - sniper
Race:
Age:
Gender: Male
Place of Birth:
Current Residence:  Wherever the Navy sends him
Height:
Weight:
Body type: Athletic
Eyes: Gray
Hair: Blond
Scars:
Tattoes:
Mother:
Father: Unknown
Stepfather:
Siblings: 2 Half brothers
Marital Status: In a relationship with Llallana Noretski
Children: None
Relatives:
Likes: Wretched wenches
Dislikes:
Talents:
Strengths:
Weaknesses:
Languages: English, Croatian
His storyline is in Sleeper. Sleeper is #3 in the Crossfire series
Joker's favorite book:
The Little Prince (French: Le Petit Prince; French pronunciation: ​[lə.pə.ti'pʁɛ̃s]), first published in 1943, is a novella and the most famous work of the French aristocrat, writer, poet and pioneering aviator Antoine de Saint-Exupéry (1900–1944).
The novella is both the most read and most translated book in the French language, and was voted the best book of the 20th century in France. Translated into more than 250 languages and dialects, as well as braille and selling over a million copies per year with sales totalling more than 140 million copies worldwide, it has become one of the best-selling books ever published.  Saint-Exupéry, a laureate of several of France's highest literary awards and a reserve military pilot at the start of the Second World War, wrote and illustrated the manuscript while exiled in the United States after the Fall of France. He had travelled there on a personal mission to persuade its government to quickly enter the war against Nazi Germany. In the midst of personal upheavals and failing health he produced almost half of the writings he would be remembered for, including a tender tale of loneliness, friendship, love and loss, in the form of a young prince fallen to Earth.
Community content is available under
CC-BY-SA
unless otherwise noted.